Taser Those Fans!
05-06-2010
by cdnuzzo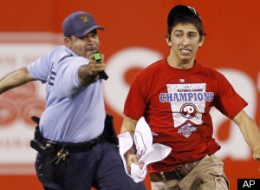 Article by: JON KRAWCZYNSKI
The video of a 17-year-old fan being chased around the field and finally Tasered at a Philadelphia Phillies game drew laughs as it became an Internet sensation.
Around the major leagues, though, many players and managers aren't joining in.
While some question the use of force on a teen who ran on to the field as a lark, plenty of players, baseball officials and security officers say it's difficult to make that determination in the moment. Recalling the stabbing of tennis star Monica Seles in 1993, and the beating of Royals first base coach Tom Gamboa in 2002, they stressed the need to feel safe on the field.
"You've got to do whatever you think is necessary to stop some of these fans," Giants manager Bruce Bochy said. "It's a wacko fan. I'm all for it."
It says something about the distance that has grown between fans and players, but also about the concern that's developed about security among everyone at the ballpark.
Some of baseball's enduring images come from fans on the field – like the two kids in Atlanta patting Hank Aaron as he rounded second base after breaking Babe Ruth's career home run record in 1974. Then there was Morganna, "the Kissing Bandit," who made a tradition of sauntering onto the field and plopping red-lipsticked smooches on players' cheeks in the 1970s and 80s.
But there also is a darker side to fans getting in on the action, particularly in the last 20 years or so. Gamboa was mugged by two fans at a Royals-White Sox game in Chicago. The Houston Astros had to rush to the aid of outfielder Bill Spiers when he was attacked by a fan in Milwaukee in 1999 and the NBA's Indiana Pacers brawled with Pistons fans in Detroit in 2004.
"I think it's important that the players are protected out there," Houston manager Brad Mills said. "You never know what's going to happen. So many times we've had guys run on tennis courts with knives or whatever, we just have to make sure that's taken care of."
Philadelphia police sent a strong message on Monday night when Steve Consalvi jumped onto the field and eluded capture as several security guards gave chase. Finally, a police officer shot Consalvi with a Taser and he fell face-first to the turf.
The story continues at.... http://www.huffingtonpost.com/2010/05/06/mlb-players-managers-appl_n_565739.html
Share
Login to Post a Reply
Chicago Fails to win Olympics.
10-03-2009
by FlunkYou
Da Bears Fall Down
09-14-2009
by cdnuzzo
New York Mets: Not Much of a Big Apple
08-25-2009
by cdnuzzo
You Got The Wrong Bleacher Bum
08-14-2009
by cdnuzzo
Game of Chicken: Horse Vs. Car
08-06-2009
by cdnuzzo
Ready Steady ... Escargot!
07-19-2009
by cdnuzzo
Chicago Blackhawks fire GM Dale Tallon
07-16-2009
by cdnuzzo
Strange but True Cubs Injuries
07-09-2009
by cdnuzzo
Top 10 Sin Bin Moments
06-25-2009
by cdnuzzo
Yanks Cannot Beat Sox; Wang Just Fails
06-12-2009
by cdnuzzo
Three Balks?!!
05-21-2009
by cdnuzzo
Emu Catching?
05-10-2009
by cdnuzzo
Ducks Over Sharks?!
04-29-2009
by cdnuzzo
Chicago's Past Time
04-23-2009
by cdnuzzo
Natinals?
04-21-2009
by cdnuzzo
Chien-Ming Wang's ERA
04-21-2009
by cdnuzzo
The Boo Crew
04-13-2009
by cdnuzzo
Baseball!
04-04-2009
by cdnuzzo
A Failure In (Girls) Hockey
03-24-2009
by cdnuzzo